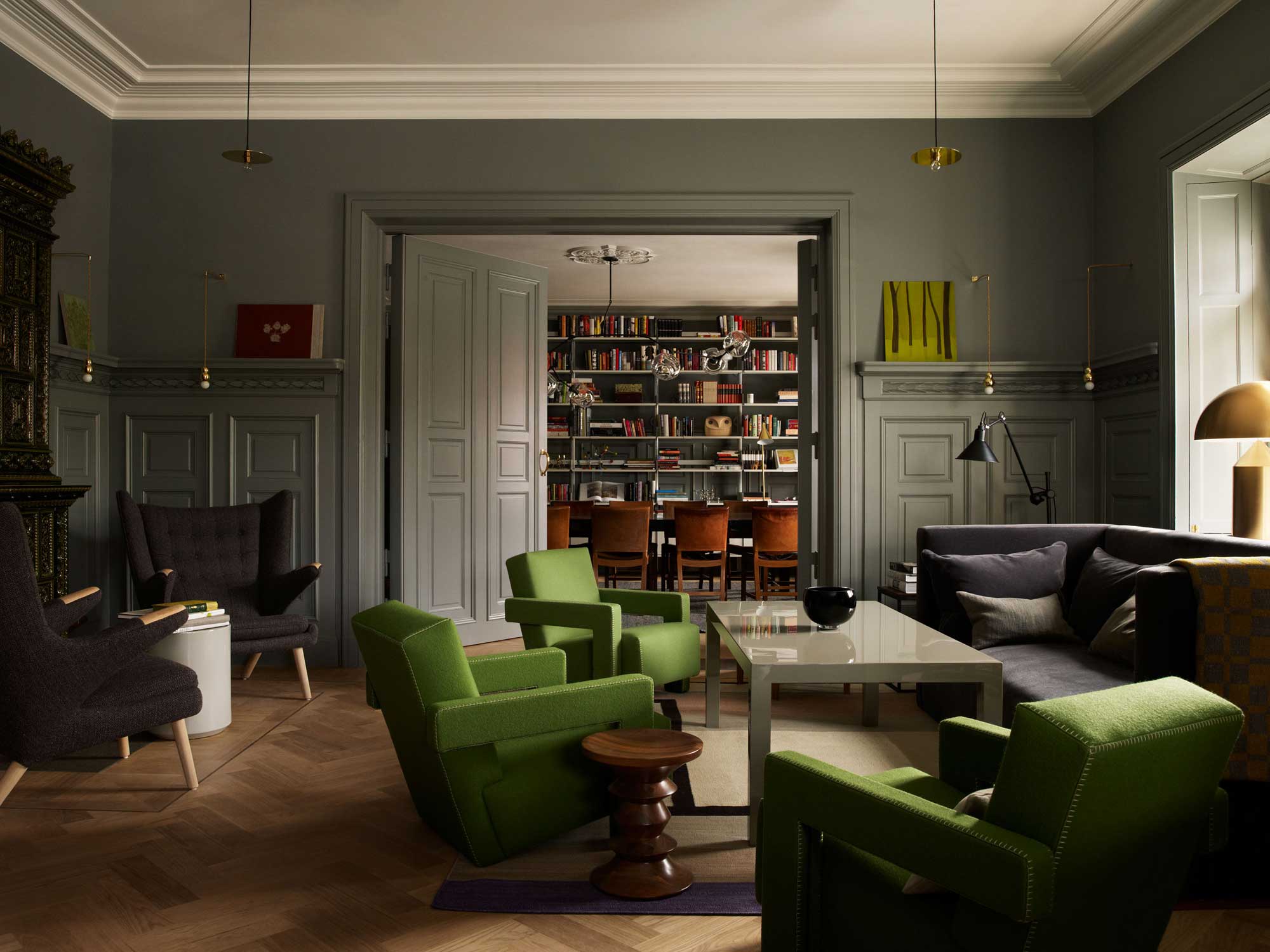 A selection of the best travel, food, art and design from the world over. Have a scroll and see what you inspiration you can find.
Curated travel:
Hotel sanders, copenhagen
Founded by former royal ballet dancer, Alexander Kølpin, the 5-star Hotel Sanders is based within a classical Jugendstil building and overlooks the iconic Royal Theatre in the historic quarter of Copenhagen. The design of the hotel has been led by London-based Lind + Almond (formerly Soho House Group) which will be the design duo's first inaugural project. Sanders is all about simple elegance. A culture of art, design and creativity headline the smart, bespoke interiors of this cool residence, an iconic architectural restoration in a neighbourhood of heritage. Here the luxury of service is both humble and personable, where hand-picked hosts tailor your stay for that 'be at home' feeling when in Copenhagen.
curated food/travel:
restaurant barr, copenhagen
Snøhetta has crafted Nordic-inspired interiors for René Redzepi and Thorsten Schmidt's latest venture, Barr, in Copenhagen, which means barley in old Norse, takes over the former home of Redzepi's legendary Noma restaurant on the city's waterfront. Rough stone walls contrast with warm oak floors, while original ceiling beams sit between new, sculpted wooden planks that are studded with brass details to catch the light. Barr's carved wooden counter and custom-designed furniture, made by Malte Gormsen out of oak grown less than 50 km from the restaurant's doorstep. With a menu filled with casual Nordic classics such as Danish meatballs, schnitzel and hot-smoked salmon, served alongside craft beers and ales.
Curated travel:
Porto fira suites, santorini
The recent refurbishment of Porto Fira Suites, a hotel located in the steep cliff of the Caldera in Santorini, has created a unique retreat for those who take pleasure in enjoying a holiday experience of luxurious relaxation. Built in the picturesque area of Kato Fira, Porto Fira Suites is composed of 13 suites that blend in with their natural environment. Inspiration was drawn from the oldest part of the hotel that used to serve as a house for the a nearby church. Interior Design Laboratorium thoroughly researched the building's history, creating a design that abides to the architecture synonymous with the Aegean islands. All with magnificent views of the volcano, the deep blue of the sea and the most famous of sunsets from your private balcony.
Curated Travel:
Ett hem hotel, stockholm
Studioilse converted a 100 year old house into a boutique hotel, with six guest suites, five double bedrooms and one duplex suite. Each a mix of vintage and modern furniture. This is a hotel that feels and acts more like a home. Eat Hem is as glamorous as it it casual, and while it maybe a luxury to stay there, it is nothing like a luxury hotel, this is very different and very special.
Curated Art:
The Broad, Downtown L.A.
An Upcoming Special Exhibition in L.A. Yayoi Kusama's Infinity Mirrors, from Oct 21nd to Jan 1st 2018. The Broad is the only California Museum to host Kusama's work on tour throughout the USA. Along with Eli Broad's incredible collection and the clever building designed by architects Diller Scofidio + Renfro, who designed Manhattan's High Line, this is the perfect day out in L.A.
Curated Travel:
THe Whitby Hotel, New York
In a purpose built building in Manhattan's upper midtown, Firmadale have built their second hotel in New York. 86 bedrooms over 16 floors, reminiscent of their Ham Yard Hotel in London, it is full of Kit Kemp's warm patterns, texture and colours. This is a New York hotel with British wit and eccentricity, the perfect place to base yourself when in Manhattan.
Curated Travel:
Casa bonay, Barcelona
A hotel by the people, for the city. A refurbished 1869 mansion in Barcelona's L'Eixample district which forms the backdrop for the crisp and effortlessly cool Casa Bonay. Showcasing local brands and homegrown designers and publishers, Casa Bonay is a welcome break from the norm in Barcelona's hotel scene. A hotel that is also a restaurant, coffee shop, art gallery and social hub for locals as much as it is for tourists. Brooklyn based design studio Tack restored the building to its former glory, unearthing magnificent mosaic tiles and flooding it with natural light, This is Barcelona's living room, its spirit.
Curated Travel:
The Craftsman cottage, uk
A luxurious self-catering cottage in the peaceful English countryside. Created by Amanda Bannister, the home immerses guests in fine British craftsmanship. Showcasing impeccable design and crafts throughout, this 19th Century cottage is the perfect bolthole for a family vacation in Senley, Yorkshire. With mid-century Ercol sideboards, David Mellor tableware and Yorkshire Wool curtains all siting comfortably alongside each other in an extraordinary holiday cottage.
Curated Art:
The hepworth wakefield, U.K.
Winne roof the Museum of The Year Award 2017, in west Yorkshire, housed in a David Chipperfield designed building on the banks of the river Calder. Named in honour of Wakefield born Babara Hepworth, Yorkshire has now become a world centre for sculpture. The museum is custodian of a collection including works by artists who include Hepworth, Moore, David Bombery, Bea Nicholson and Paul Nash. A major cultural asset for Yorkshire and the whole of the U.K.
Curated Travel:
La Granja, Ibiza
A luxurious hideaway for a quieter life in central Ibiza. Surrounded by rolling hills, pine forests and traditional Ibizan farmlands is this 16th century private members-only retreat is a first for the Design hotels collective. Classical Iberian architecture, decorated in a traditional Ibizan style with Moorish influences. The bedrooms are dark and cool, with open communal dining areas, reclaimed wood throughout and a pool overlooking acres of farmland and citrus groves. This is a different more holistic holiday in Ibiza.
Curated Food/Travel:
odette, singapore
A sophisticated French restaurant in the National Gallery of Singapore with the very best seasonal ingredients and artisan produce from around the world, all put centre stage for elegant and refined dishes. The restaurant design is all soft pink and grey with original artworks and abstract collages of deconstructed food photograph by Singoporean artist Daan Ny. A two Michelin star must for lunch or dinner in Singapore.
Curated Design:
Hurdle chair, Dowel Jones
Australian design studio Dowel Jones has expanded its Hurdle seat design into a full collection. The Melbourne based studio of Adam Lynch and Dale Hardiman who founded founded the company after collaborating at University. Due to the designs enormous popularity, especially in the hospitality industry, the expanded range which can be customised with two seat and four seater benches, central tables and upholstery using the same parts. Reminiscent of a tennis umpires chair, comprising timber seats with frames of white powder coated tubular steel.
curated travel:
casa Malca, Tultum, Mexico
On the Caribbean coast of Mexico's Yucután peninsula, in the beach resort of Tulum lies a property abandoned by Pablo Escobar that has been renovated and turned into a luxurious hotel by Lio Malca, who deals in contemporary art works by artists such as Jean-Michael Basquait and Kaws. The villa was discovered by Malca in 2012 and houses some of his collection of renowned contemporary art and design. The art is frequently rotated so returning guests have a different experience every time the visit. A truly unique hotel.
Curated travel:
Les Roches Rouges Hotel, France
With sweeping mediterranean views, this sleek and carefully curated hotel, with its natural stone lined pool by the surf is a must visit for anyone in the south of France. Effortlessly cool, just a few miles along the coast from Nice and on the edge of the L'Estree National Park, Les Roches Rouges is the first coastal hotel from Les Hotels d'es Haut who have four luxury boutique retreats in the French Alps. Modernist and chic, with old-school glamour, this is perfect for people who love the French Riviera, but don't want any of the gaudy glitz of St.Tropez or Cannes.
Curated travel:
Berber lodge, marrakech
Nestled amongst ancient Moroccan Olive trees, near the Village of Oumes, Berber Lodge comprises nine individual lodges laid out in a traditional village feel. Architect Romain Michel-Meniere has already made name for himself by designing a number of riads and properties, such as the stylish and eclectic Bab Ourika. The lodge is in tune with its natural surroundings, its design centred on authenticity and peacefulness. An oasis of calm just 20km from the busy streets of Marrakech.
CURATED TRAVEL:
AmanGiri, utah, usa
A pocket of modernist luxury in a wild and wind-carved Utah landscape, the hotel is a sleek sandstone hideaway at the heart of Navajo country, not the place you'd expect to find an incredible spa, excellent restaurant and every-whim-met indulgence. For once in a lifetime sunset views, try to book a Mesa View Suite; if you want a pool of your own, try one of the two Terrace Pool Suites. But for the full experience, the Girijaala Suite has an enormous sky lounge and swimming pool. Set deep in North America's most dramatic desert landscape, guests come here to be and feel remote, surrounded by striking architecture, mind-blowing nature and pampered in true Aman Resorts style.
CURATED Design / travel:
Vipp loft, copenhagen
A 400 square meter space above VIPP's headquarters Copenhagen's Islands Brygge area that you can stay in. VIPP are inviting people to experience firsthand their philosophy of good design in a place that is out of the ordinary. The firm have employed Studio David Thulstrup to create "a multi- functional and holistic home environment" beneath the original oak rafters of the restored old printing factory's loft area. The open-plan living area is arranged around a freestanding Vipp kitchen. Vintage furniture and diverse artworks create the feel of a contemporary art and design gallery. A one off design holiday experience.
Curated travel:
Observatory bush villa, leobo private reserve, south africa
Leobo Private Reserve is a completely private 20,000 acre estate based in the beautiful Waterberg mountains, 3 hours drive north of Johannesburg and home to the award winning 'Observatory Bush Villa', one of the most stunning safari house in Africa, perfect as a fantastic home for families and small groups wanting to explore the wilderness of the reserve. Owned by an English family as their private home and only recently available on a limited commercial basis, the reserve is rented on an exclusive basis only. You don't share it with any other guests; it's your playground for the duration of your stay.