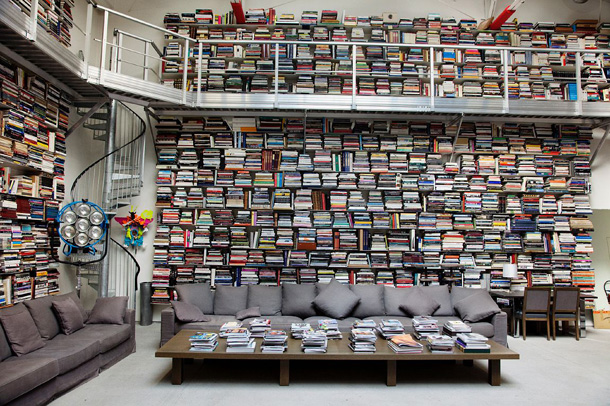 Sifting through the all the stacks and racks
river cafe 30, ruth rogers
An iconic restaurant. A celebratory cookbook. Simply delicious Italian homecooking at its best. With River Cafe 30, Ruth Rogers and her head-chefs, Joseph Trivelli and Sian Wyn Owen, invite you to join them in marking 30 years of memories and good food at London's The River Cafe.
Since 1987, The River Cafe has championed simple, good quality Italian cooking and, along with Ruth and Rose's cookbooks, it really did change the way we eat. Ruth, Joseph and Sian have revisited and updated the best dishes from the first blue cookbook and introduce 30 new favourites from the menus today - Panzanella, Ravioli with Ricotta, Raw Tomato and Basil, Risotto with Porcini and Girolles, Braised Beef Fillet and, of course, Chocolate Nemesis.
the visual history of type, Paul Mcneil
Type is a microcosmic representation of culture and this extraordinary book is a definitive survey of the major typefaces produced since the advent of printing, from movable type in the mid-15th century to the present day. Arranged chronologically, more than 320 typefaces are presented in the form of their original type specimens or earliest printings, located in their historical context through brief overviews and descriptions of the key characteristics of each face.
What Goes Around, Emily Chappell
Flying through the streets of the capital, Emily Chappell never really meant to be a cycle courier. It was just meant to be a stopgap whilst waiting for the 'proper' job, but it stuck and became a part of her, shaping her life.
It is a remarkable hymn to London; its changing skyline, its chaos and interconnectedness, its kindness and community. A remarkable book about discovery and belonging, connection and memory, choosing life's uncharted course and the sensation of just riding.
Residents - Barbican, Anton Rodriguez
Design and brand development agency Each has, out of a chance meeting with the photographer Anton Rodriguez brought a remarkable insight into the Barbican estate, its residents and its architecture. Anton, himself a resident, had begun a blog about living in the Brutalist estate which became very popular. This book captures much of his work there and takes it a step further. Giving us a brilliant glimpse into the lucky residents homes and the inner design of the estate.
east london•an opinionated guide, hoxton mini press
Poliçia, United crushers, mom+pop music
Poliça's third album. Recorded with producer Ryan Olson at the Sonic Ranch studios in El Paso, Texas. A more mature album throughout, made while the vocalist was pregnant with her first child, the songs arrangements are cleaner, far less dense than on previous albums. At once sparkling and disco, then soaringly melancholy and oblique.
A great album for your collection.
From the East London company that publishes collectable photography books comes an unashamedly biased and opinionated guide to the area they love so much. Featuring beautiful photography, and understated design, this guide book is small but perfectly formed and is an ideal accompaniment to any East London outing. Perfect for everyone, wether you have lived in the area for years, or are keen to visit London's creative heartlands.